Hello and welcome!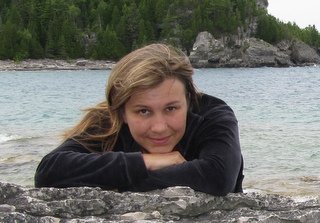 I am Olga from Toronto, Canada.
I created this site for people who are looking for the fastest and most effective way to improve their health.
Using my discoveries and my system could save you a lot of time and money, and protect you from making costly mistakes.
I hope to help you make the right choices, not the most advertised ones.
Contact me
October 2011 update: Several years after creating this site, I am now able to share my healthy recipes with around 1000 unique visitors per day! This site is often found on the first page of Google, and I am glad that those looking for an alternative to drugs, can find it easier. I made new friends all over the world, and according to the feedback I received, impacted a life or two. I am humbled by this experience and looking forward to reaching ever more people...
July 2012 update: all my experience with growing, cooking and juicing kale is now available in one e-book. Please go to kale recipes page to download it.
How it all started
Just like a journey of a thousand miles starts with a single step, mine began with a tiny personal act of resistance...
...I refused to take Tylenol
The problem
Have you ever felt that you are not really sick, but not exactly healthy either? While you don't have huge health issues, something hurts every day, headaches and back pain become normal, almost an expected feature of the day? Exhausted, you hit the bed, but cannot fall asleep for hours? And every morning you wake up already tired?
That was me. At 30-something I felt like an old, cracked, squeaking boat. Stressed, depressed, barely keeping myself afloat.
Solution #1
"Get some Tylenol, dear."- my family doctor told me,"You are not getting any younger, it will only get worse."
No, thanks! Solution #2
I did not go this route again.
Instead, I researched my symptoms in medical literature, both mainstream and alternative. Particularly, I was interested in the work of medical doctors who took a holistic approach to curing diseases.
Why? Because I know it works! Many years ago in Ukraine, doctors cured my little daughter from pancreas problems and extreme case of allergy with a combination of medications and healthy diet. Medical doctors routinely prescribe dietary changes out there.
Being a mathematician with a curious mind, I examined the statistics supporting every claim, and believed peer-reviewed research the most. The best opponents, professionals in the field, reviewed the design of someone's experiment, and if they cannot find flaws, the theory is probably right.
The result was a change of my lifestyle, previously thought to be reasonably healthy.
What did I find?
I found out that before a disease occurs, its precursors look exactly like my symptoms.
Healthy food, right state of mind and moderate exercise, not Tylenol, were the right treatment options.
And what is that healthy food? I thought I ate healthy!
I did not buy chips, burgers, or doughnuts. I cooked.
I relied on wisdom of the most respected researchers and scientists in the field. I examined the claims of all the groups: vegetarian, vegan, raw foodists, macrobiotics, people who fast and folks who juice, and lived their lifestyle in order to experiment. I took the best ideas of every diet and created my own.
And the result is...
While trying all this, I felt the results:
I haven't had a headache for years now.
My energy was steadily increasing.
My sleep started to come back to normal.
My blood pressure went down.
I shed pounds without dieting.
All without feeling deprived or too occupied by cooking. I ate delicious meals instead of being on a restrictive diet.
It was so easy that I couldn't stop talking about it... My passion to share the information and help other people live healthier, happier and pain-free life became stronger. One day I stumbled upon SBI! and created this website.
My life has changed that day
Decision to make a website was a spontaneous and benevolent action. I've never expected to make money from it. But I do now, and my time spent on posting recipes is getting paid.
If you want to undestand the process that I have followed, here is a video for you (click this button):


Lastly, I want to share a story of another woman whose success was much more dramatic than mine. She had an idea how to help the kids in Africa by knitting blankets for them. She ended up heading an international charity in just one year after starting her website. She helped and keeps helping more people than she could ever imagine:
So if you have a passion that you spend money on, you might be able to start making money off it. And if you want to make this world a better place by sharing your ideas, I've just shown you one way to make your dream happen.
Cook - and get in control of your life
I have always been quite talented in the domain of cooking. And this is what this website is all about – using the results of scientific research in your cooking. Making small steps to better health without killing yourself in the kitchen. Getting healthy snacks into your kids' lunch bags.
If you prefer quick easy recipes, I have them. I tested them. Using them will make maintaining a healthy diet effortless, so that you can concentrate on other things you enjoy doing.
If you have questions, please contact me or check if other people already asked them at Healthy food Q&A.
And don't go until you download my free gifts: