Healthy dinner recipes
Click Google's new "+1" button if you like this page!
Try healthy dinner recipes... Dinner is that meal that can make or break your progress on the way to leaner, healthier you. The last meal of the day, when you feel tired and all ready for that comforting food, should deliver nutrients to your body while still being low fat and low in empty calories.
95% of recipes on this website are either vegetarian, or vegan. Enjoy!
Black bean chili recipe
This black bean chili recipe is oh so delicious, colorful, and comforting. Great healthy dinner idea and the best chili recipe ever for the weight loss, digestion, and heart health, as it includes healthy sources of protein, a lot of fiber, and very little fat.
Using yams instead of potato makes this black bean chili recipe a low GI ( glicemic index) food, which means it provides more sustained energy and better protection against diabetes and obesity.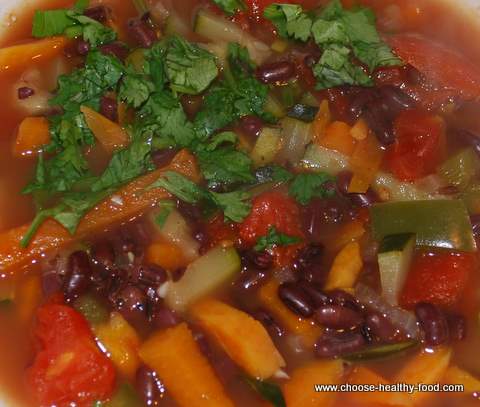 Indian chick pea masala
This Indian chickpea masala recipe makes a great healthy food dinner. It only gets tastier the next day, when chick peas absorb garam masala flavours. So it becomes a healthy lunch option, even for those who don't want to use microwave ovens. Sure, it is tastier when it's warm, but it is quite edible cold. And it freezes well for future use.
In terms of health benefits, this meal is mighty. Anti-cancer effect of turmenic is combined with benefits of chick peas that lower cholesterol and blood sugar, and fight heart disease. One cup of chick peas delivers half of your daily fiber and quarter of your daily protein.
Indian chickpea masala
Moroccan chick pea stew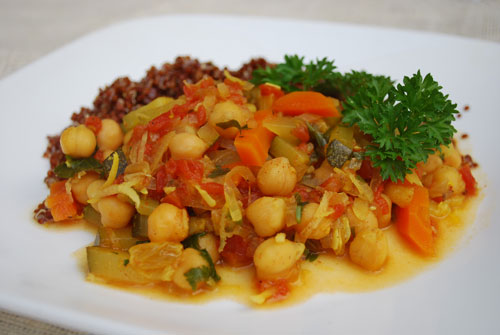 Delicious, exquisite and comforting - these are the right words to describe this Moroccan chick pea stew. Recipe is not quick and easy, and requires quite a few ingredients lined up, but the result is so dramatically tasty and healthy, that I decided to share it anyway! Tasty main course meal, high in protein and fiber, deserves attention.
Indian Chick pea curry with kale
______________________________________________________
Do you like my recipes? Please share them with your friends on Facebook and spread the word about healthy dinner recipes and easy ways to cook them
_______________________________________________________

90% of visitors find this site on Google. This is the system I followed to get 1000 visitors per day:
The System To Online Success For Dummies

Return Home from Healthy dinner recipes
Go to healthy food recipes from Healthy dinner recipes