Best kale recipes - easy and healthy
Click Google's new "+1" button if you like this page!
This collection of healthy kale recipes is unique: only tasty recipes that are easy to cook are listed here. If you ever wondered how to cook a healthy meal with kale, you have come to the right place! If you are a busy person trying to eat healthy to get rid of some health issues and an excessive weight, these easy and quick recipes will centainly fit into your schedule and help you to reach your goals.

Kale is one of the most beneficial leafy green vegetable available in the stores.
One of the strongest benefits of kale is its Calcium content in the most bioavailable form. Did you know that we absorb almost twice as much Calcium from kale than we do from milk?
Kale is one of the foods that lower blood pressure naturally.
Kale detoxifies your organs, helps you to lose weight quickly, and lowers your bad cholesterol.
You will feel these benefits of kale only if you avoid the temptation to cook it with sausage or generous amounts of oil, which is quite common in many kale recipes that I have found. This is a very common mistake people make. This collection contains only low fat recipes that are totally safe and beneficial for your health.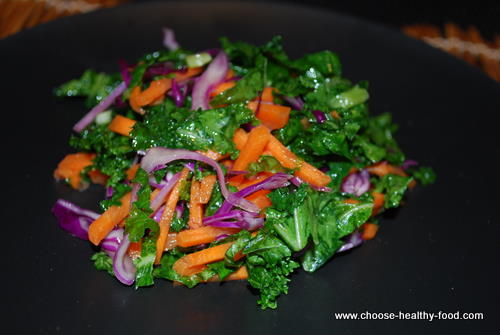 Kale soups, salads, chips, pickled kale, spreads, pesto, smoothies.
Click on a recipe link to see the picture.
Kale chips
Cooked kale
Steamed kale
Did you know that lightly steamed kale is absorbed better than raw kale? Here is a simple recipe for steamed kale.
Stuffed Mushroomse With Kale
Need to make some healthy party food? This simple vegan recipe with kale is a party favourite.
Baked kale omelette - high protein
If you are a vegetarian or someone who wants to get enough protein without eating more meat, this simple kale omelette is for you.
Italian beans with kale
Classic Italian recipe. Very simple, cheap and very good for your arteries and blood pressure.
Chick pea curry with kale
Ahhh so tasty - and so simple! Great meal for healthy weight loss and lowering your bad cholesterol.
Kale Juice Recipes
Easy and tasty kale juice
Not just a recipe - get tips how to make a great tasting and well balanced kale juice.
Watermelon and Kale juice
Anti-inflammatory juice that helps to recover from infectious diseases, including flu, great for joints, lowering your blood pressure, and strengthening nails and bones.
Pineapple Kale Juice - remedy for dry skin
Increase microcirculation, thikness and density of your skin and provide hydration for dry skin with this easy tasty recipe that you will enjoy drinking every day.
Kale Smoothie Recipes
My reader survey showed that many people want to get a healthy kale recipes e-book and an easy kale-based meal plan. My meal plan is scheduled for release in early 2013! If you'd like to be notified when I am done, please click here to sign up for my newsletter, Healthy Bits.
Kale Soup Recipes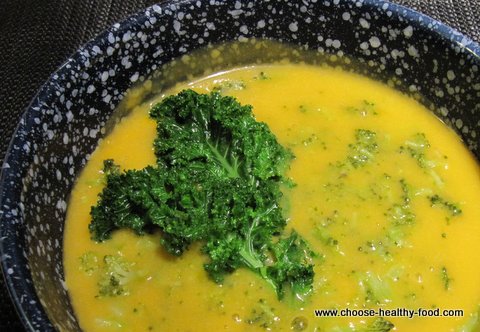 Pickled kale salad
Easy pickled kale salad... how to pickle kale
I took pickling kale to the next level.. We, Eastern Europeans, pickle veggies a lot because fermented greens and veggies are so good for you. I added kale to my repertoir and want to share my kale pickling techniques with you.
Raw kale salad (pickled kale)
Raw kale salad is a detoxifying meal offering cancer protection and fighting heart disease.
4 colors pickled kale salad
It is beautiful, and so it it is a great addition to any main meal. Healthy balanced kale salad that looks and tastes great.
Kale pesto and spread -raw vegan recipes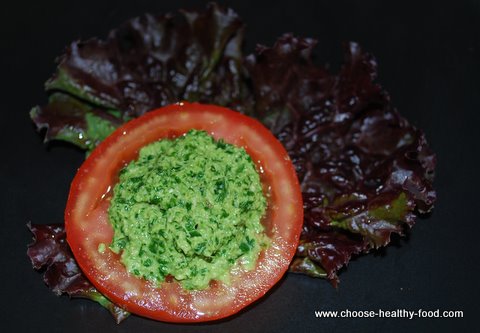 Recipes Comments
Have you tried my recipes? Did you change them and made them better? Other visitors may like your version more than mine. Rate recipes and share your opinion with others!
What Other Visitors Have Said
Click below to see contributions from other visitors to this page...

Kale pesto Not rated yet
Sounds interesting. I will try it out....
Kale Chips Not rated yet
I have tried your kale chips recipes, and I love them! The Basil Kale Pesto recipe is one of my favorites....
Kale-ikopita (Kale & Spinach Pie) Not rated yet
Kale-ikopita I was feeling creative one evening and had all the right ingredients in my fridge. This turned out delicious, so I had to share!! It might...
Kale Soup Not rated yet
I made the kale soup and I think it's one of the best soup I ever had! Tasty, filling and extra healthy, it's a keeper! Thank you!...
______________________________________________________
Do you like my recipes? Please share them with your friends on Facebook and spread the word about health benefits of kale and easy ways to cook it
_______________________________________________________
Find out more about amazing health benefits of kale here.
Kale pesto with sunflower seeds (Raw,vegan)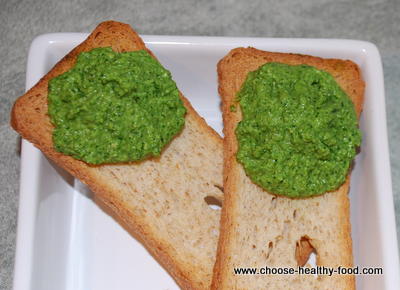 Traditional pesto is made from basil leaves with pine nuts. Not everyone can afford such luxury, yet everyone should be entitled to their healthy dose of the vitamins every day. This is how this true poor man's pesto was born. It makes the best use of the raw kale. Spread it over your sandwich, add to pasta, wraps or grilled veggies.
Ingredients:
Makes 1 270 ml jar
3 tightly packed cups fresh kale rinsed and drained
1/2 cup extra-virgin olive oil or flaxseed oil
1/2 cup toasted or raw sunflower seeds or mix of sunflower seeds with sesame seeds
juice of 1/2-3/4 lemon
1 clove garlic, and/or 3 cloves braised/marinated garlic
1/4 cup fresh oregano, majoran or basil, lightly packed
Salt to taste
Directions:
Place kale into the food processor, add lemon juice, herbs, garlic and seeds and mix roughly. Periodically push the mixture down as it is not going to mix well. If it doesn't mix at all, add a little bit of water.
Keep running processor on the slow speed and slowly add the oil. Blend well, place into the jar with tight lid.

90% of visitors find this site on Google. This is the system I followed to get 1000 visitors per day:
The System To Online Success For Dummies

______________________________________________________
Return Home from Kale recipes
Try my best Kale juice recipes and get answers about Kale is from the cabbage family... Try my Best Cabbage recipes
Explore healthy recipes that lower blood cholesterol... Go to collard greens recipes and greens recipes