Tofu fingers - baked tofu recipe
Baked tofu fingers recipe is an ideal high protein food for all who work out or diet to lose weight, especially vegetarians and vegans. In the spirit of working out and eating more protein, I changed the original recipe to maximize protein content and reduce carbs. It delivers whopping 47% of calories from protein, making it one of the top high protein food for from whole food plant sources. Only 14% of calories from carbs places it into the range of low carb recipes.
Everyone who tried this recipe said,"What is this, chicken?" So this baked tofu sticks recipe, a source of lean vegan protein, got a seal of approval of my family... and disappeared before I packed it into my lunch bag.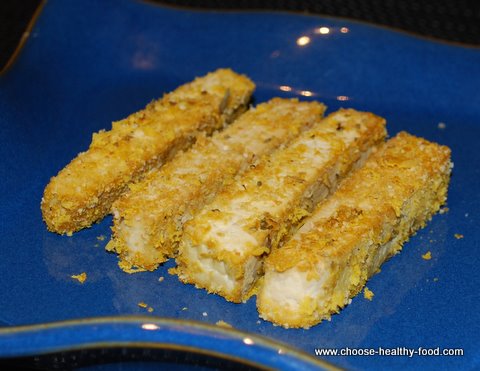 Tofu fingers - baked tofu recipe
Ingredients
2 pkgs. extra firm tofu
1/3 cup tamari soy sauce, light soy sauce or Bragg's liquid aminos
1/3 cup whole wheat bread crumbs
1/3 cup nutritional yeast (available at health, bulk and some grocery stores)
1/2 tsp. granulated garlic powder
1/4 tsp. black pepper
1/2 tsp. oregano (or any other herb of choice - thyme, rosemary, etc.)
Directions
Pour soy sauce into a bowl or deep plate
In a separate bowl or plate, combine bread crumbs, nutritional yeast and seasonings.
Cut each packages of tofu into 3 parts horizontally. Cut them in 1/2 vertically, then each part in halves, and repeat this procedure once again. 8x3=24 "fingers" per tofu block.
Preheat oven to 3750F
Lightly oil a cookie sheet or line with parchment paper.
Dip tofu finger in soy sauce to completely cover both sides.
Then dip in bread crumb mixture to coat both sides.
Place on cookie sheet and repeat with remaining tofu slices.
Bake for 15 - 18 minutes until lightly browned. Do not over cook or they'll become tough and dry.
Serve with favourite dipping sauce(s) - e.g. plum sauce, Szechwan peanut sauce, marinara etc. If working out, eat without any sauce.
(makes 48 "fingers")
Nutrition information
in 1 portion ( 87 g, 4 pieces): 76 cal.
Fat: 29 g, Protein: 36g, Carbs: 11 g
Calorie composition
38% from fat,
47% from protein,
14% from carbs.
This fantastic baked tofu recipe takes its origin from Nimisha Raja's website.
Interested in more high protein recipes and recipes for baked tofu?
Check out my collection of High Protein Recipes and Baked Kale Omelette


90% of visitors find this site on Google. This is the system I followed to get 1000 visitors per day:
The System To Online Success For Dummies

Return Home from Baked tofu recipe - tofu "fingers"