Moroccan chick pea stew recipe
Delicious, exquisite and comforting - these are the right words to describe this Moroccan chick pea stew. Recipe is not quick and easy, and requires quite a few ingredients lined up, but the result is so dramatically tasty and healthy, that I decided to share it anyway! Tasty main course meal, high in protein and fiber, deserves attention.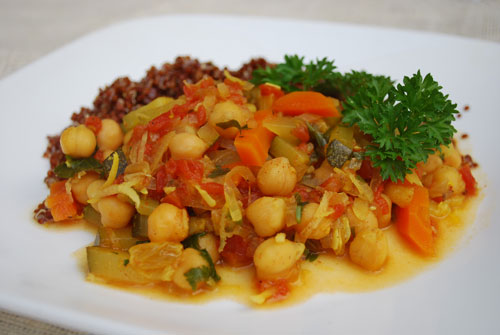 Moroccan chick pea stew recipe
Vegan, gluten-free, satisfying meal. Use borner mandoline slicer to speed up cooking time
Ingredients:
3 cups cooked or canned chickpeas (rinse if canned)
2 medium onions, chopped
1 carrot, chopped
1 zucchini, diced
1 garlic clove, minced
1/2 teaspoon ground cinnamon
1/2 teaspoon ground turmeric
1/4 teaspoon cayenne or chili pepper
1 16-ounce can diced tomatoes
2 cups vegetable stock or water
Salt, to taste
1 Tbsp olive oil
1/2 cup dried apricots, soaked and chopped
1/4 cup raisins
Zest of 1 lemon
2 tablespoons minced fresh cilantro or parsley
Directions:
Heat the oil in a large saucepan until hot. Add chopped onions and carrot and cook, covered, until softened.
Add zucchini, garlic, cinnamon, turmeric, salt, cayenne, tomatoes, stock or water, and salt to taste. Reduce the heat to low, and simmer for 25 minutes.
Meanwhile, soak the apricots in hot water for 20 minutes, then drain and finely chop. Add the apricots, raisins, lemon zest, and chickpeas to the vegetable mixture and cook 5 minutes longer, or until hot and the flavors are blended.
Stir in the cilantro or parsley.
Serve over couscous, quinoa or rice.
Serves 6-8 people.
Cooking/prep time - 40-50 minutes
Time saving tips
Use Borner mandoline slicer, it will cut prep time by 5-10 minutes, make slicing effortless, and make veggies look uniform;
Soak and cook chick peas in advance, divide them by 2-3 cups portions and freeze them. Cooked chick peas are way tastier than the ones from the can, and they contain no aluminium or bisphenol-A.