Kale-Potato-Broccoli Soup Recipe For Heart Health
Click Google's new "+1" button if you like this page!
This broccoli soup recipe with kale and potatoes suits any diet - Weight Watchers, the McDougall diet, Dr. Ornish's diet and DASH (diet to lower blood pressure). It is a hearty, comforting vegan meal that promotes heart health, and helps in cancer prevention.
...One leisurely Saturday morning I was sitting at Tim Horton's (popular Canadian coffee shop for those who haven't heard of Tim's ), eating their cream of broccoli soup, and enjoying it immensely. I caught myself thinking, "What's inside, I wonder, and how many calories are there in this soup?"
Further search on Internet revealed that 10 ounces of this soup contained from 160 to 210 calories, but the ingredients of it were still unknown.
Since I liked this whole idea of creamy potato soup with little florets of broccoli, I created a vegan broccoli soup with potato and kale as a homemade alternative.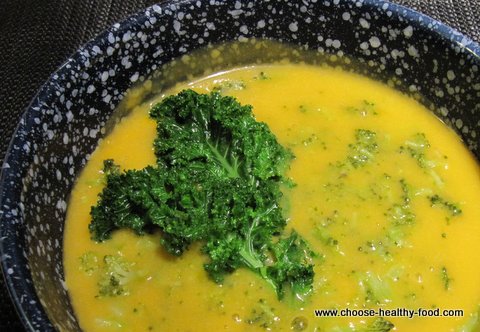 Kale Potato Broccoli Soup Recipe
Makes 5 big or 6 medium portions
Ingredients:
1 vegetarian buillion cube or 2 tbsp Costco organic no-salt seasoning
1 carrot
3 big potatoes
1 big onion
3 broccoli stems with florets
5 kale leaves
1 pinch salt, pepper,
1 tsp spice mix ( for example, Costco Tuscan seasoning)
1 cup unsweetened almond milk
Directions:
Place the boullion cube in the pot, add water (about 1 liter) and heat to boil
Make two cuts on the top of the onion through the half of it so that it doesn't fall apart while boiling, yet boils faster. Add it to the soup.
Clean potatos and carrot , cut in chucks and add to the soup. Chunks don't have to be beautiful. If you need to speed up cooking time, cut in smaller pieces.
Boil these ingredients for 10-15 minutes. Make sure there is enough water to cover veggies. Meanwhile, wash the broccoli and cut the stem off. Place broccoli head down on top of the veggies in the pot, and cover it with the lid.
In 5 minutes, when broccoli is steamed enough to be soft, add kale leaves on top of soup, cover the lid, and let them steam for 1 minute.
Pull out broccoli and kale. Chop broccoli into small pieces. Chop kale. Set these two ingredients aside.
Throw away boiled onion.
In the blender, blend the soup. Add salt, spices, pepper, and almond milk. Add enough milk to reach the desired consistency. You can replace almond milk with cream, but this will make the soup less healthy.
Mix in broccoli and kale and bring to boil.
Cooking Time: 25 minutes
Read about health benefits of kale here.
Explore other kale recipes:
__________________________________
Return Home from Kale Potato Broccoli Soup Recipe
Read other ideas of cooking Kale Recipes
Explore healthy recipes that lower blood cholesterol... Go to collard greens recipes and greens recipes



90% of visitors find this site on Google. This is the system I followed to get 1000 visitors per day:
The System To Online Success For Dummies